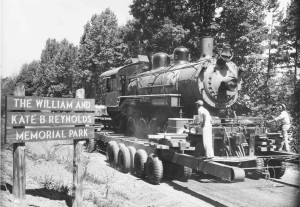 On this day in 1954, Tanglewood Park added a new feature to the park grounds.  Train engine 542 was moved to Tanglewood Park, where it was placed on rails and situated so that children and adults could climb into the cab and see the engine from the inside.
The 1903 locomotive was given to the park by the Southern Railway.
See more photos of the engine's move to Tanglewood Park at  www.digitalforsyth.org.
Photo courtesy of Forsyth County Public Library Photograph Collection.