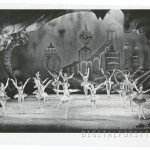 The School of the Arts first presented the Nutcracker Ballet at Reynolds Auditorium on this day in 1966.
Tchaikovsky's ballet was enhanced by the talented performers, colorful costumes and artistic sets.  The music accompaniment was recorded music, but this was greatly improved in later years when the Winston-Salem Symphony provided professional music.
The above photo was taken at the Nutcracker Ballet in 1967.
Photo courtesy of Forsyth County Public Library Photograph Collection.