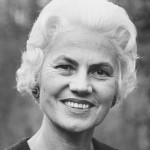 Velma Preslar McGee was  born on this day in 1911, in Union County, to M. L. D. and Effie Jane Preslar.
She was a graduate of Meredith College, and she was honored by her alma mater when she was awarded the Distinguished Alumna Award in 1989.
Velma was active in the Baptist Woman's Missionary Union throughout her adult life.  She served as state president of the organization from 1956 to 1961.  She was the first woman elected as First Vice President of the Baptist State Convention of North Carolina in 1964.
Velma was also involved in literacy work in North Carolina.  She received the James B. Hunt, Jr. Celebration of Literacy Award in 1989.
She was married to Dr. William Kay McGee and was a member of College Park Baptist Church, where she was active in all areas of Woman's Missionary Union work.   She passed away in 1996.
Photo courtesy of Forsyth County Public Library Photograph Collection.