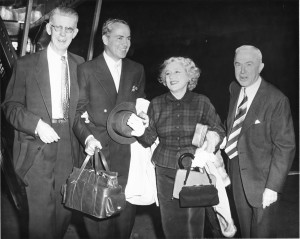 Television was in its infancy in 1953 when Mary Pickford and her husband, Buddy Rogers, visited Winston-Salem as stockholders of WSJS Television.
Mary Pickford, known as America's first sweetheart of the movies, was enthusiastic about the future of television.
On this visit in 1953, Mr. and Mrs. Rogers (center) were greeted by Harold Essex (left), director of WSJS, and W. K. Hoyt (right), publisher of the Winston-Salem Journal.
Photo courtesy of Forsyth County Public Library Photograph Collection.