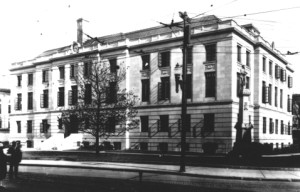 A new organization was founded on this day in 1928, called the Courthouse Girls Club.
The club consisted of the young women who carried on the work of the county.
The girls planned to hold meetings on the first Tuesday of each month and offer interesting programs.
All women working in the courthouse were eligible to join.
The photo above shows the Forsyth County Courthouse about 1926.
Photo courtesy of Forsyth County Public Library Photograph Collection.