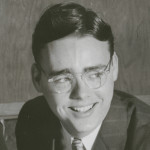 Dr. Homer George Sutton Jr.  was born on this day in 1924, to Homer George Sr. and Ruth Dawson Sutton.
He attended the local schools and graduated from R. J. Reynolds High School in 1942.
He served in the United States Ninth Army in World War II.  After serving in the Army, he attended and graduated from Salem College in 1950.  He graduated from Bowman Gray School of Medicine in 1953.
Dr. Sutton practiced medicine in the Oldtown area from 1956 until 1993.  He was a fellow-member of the American Academy of Family Practice.
Dr. Sutton was an active member of Messiah Moravian Church, where he played in the band and sang in the choir for many years.
He married Katherine Douthit Cady, and he passed away in 2008.
Photo courtesy of Forsyth County Public Library Photograph Collection.