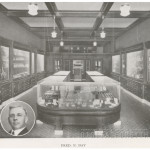 A full-page ad in the Winston-Salem Journal announced that Fred N. Day opened his modern jewelry store at 406 North Liberty Street on this day in 1913.
Fred N. Day became a jeweler in 1885 in Oxford.  He opened his Winston-Salem jewelry store in 1893.
On this opening day, customers were invited to come in and examine the store from 2:oo pm to 10:00 pm.  No goods would be sold, but attendees would receive a free "beautiful souvenir."
The jewelry store had been located at this site since about 1906, but it was burned  in a fire that started in the Nissen Building earlier in 1913.  So the advertisement was an announcement about the store reopening after it was rebuilt and repaired.
Fred N. Day later moved to Trade Street, after the store was damaged again by a fire in the Nissen Building.
The photo above shows Fred N. Day's Jewelry Store in 1918.  His well-appointed store featured high-grade wares, jewelry, watches, and silverware.  Henry B. Day, Fred's son and a graduate of Philadelphia Optical School, was in charge of the optical department.
Photo courtesy of Forsyth County Public Library Photograph Collection.