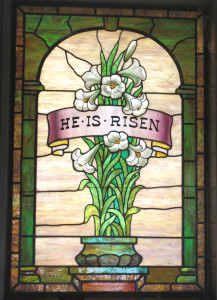 Winston-Salem has been called the "Easter City."  Thousands of visitors flock to Winston-Salem during the Easter season.  The Moravian Easter Sunrise Services take place throughout the county on Easter Sunday, led by Moravian brass bands, calling Christians to worship.  The services take place in the Moravian graveyards, and begin with the words, "The Lord is Risen.  The Lord is Risen Indeed!
Do you recognize this stained glass window?  It is located in Winston-Salem, but not easily seen, unless you know where to look.  Where is it?  Care to make a guess?   I'll reveal the answer tomorrow.
Photo by Molly Grogan Rawls.