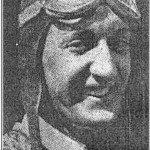 John P. Charles operated a store, called "The Red Store," near his home in the Southside neighborhood.  He and his wife, Mary Evans Charles, had eight children, four sons and four daughters.  Two of the sons, James Shelly Charles and Paul D. Charles, caught the aviation bug and became pilots.
J. Shelly Charles (shown above) was born in Winston-Salem in 1900.  He attended the local schools and enlisted in the air service section of the Signal Corps in 1918.  He became a flying cadet and learned to fly in the old Jenny biplane.  He underwent rigorous training in California, but he stuck it out and was assigned to forestry duty in the far west after graduation.
J. Shelly returned to Winston-Salem in the early 1920s and established a flying service.  He built a flying area on the Old Lexington Road that he called Charles Field.  It was located near where the Western Electric Company plant was later built.  Shelly enlisted the help of his younger brother, Paul, as a mechanic for the aviation business.  Charles Field was very popular on the weekends, and people came out to watch and participate in the flying.  Shelly sponsored an air circus that came to town and he participated in two transcontinental air races during the 1920s.
Shelly was a glider enthusiast and was one of the last aerial "Pony Express" pilots who flew in the open cockpit biplane without regard to weather, terrain or darkness.  He piloted the last open cockpit mail run in history from Chicago to Atlanta.  He also pioneered aerial photography and took some of the first aerial photographs of North Carolina.
Shelly's brother, Paul, advanced from being the mechanic to piloting, and was one of the nation's youngest pilots when he soloed in 1924 at age 19.  For many years, Paul was the youngest licensed commercial pilot, stunt flier and wing-walker.
Shelly and Paul opened a flying service in Richmond, Virginia.  They trained pilots and performed acrobatics.  In 1928, Paul was piloting  his plane and preparing to land when he noticed that the landing gear wouldn't engage.  It was flapping against the fuselage.  He turned the controls over to a student, and climbed out on the wing to examine the problem.  Then, he flew over the airport and dropped a note asking for help.  Another airplane  took off and brought him some rope.  With the student at the controls, Paul climbed onto the wing and tied the landing gear into place.  Then, he landed the airplane safely.
Shelly joined Pitcairn Air Lines, the predecessor to Eastern Air Lines, in 1930.  When Eastern Air Lines was organized, Shelly was one of the first captains to fill the airline's flight roster.  In 1955, Shelly joined the select "Hat in the Ring" club of Eastern pilots who had completed 25 years of flying with the airline.
Paul joined Eastern Air Lines in 1931 as a pilot.  He also instructed other pilots and retired in 1965 after flying more than 32,000 hours.  Paul was gifted in mechanical ability, and built his first airplane in 1929.  Over the years, he also built cameras, an automobile, a telescope, and other items that he fashioned from junkyard parts.
Shelly married Esther McKnight about 1923.  Shelly taught her to fly, and she soloed and earned her student pilot license.  In 1929, she and Shelly were living in Richmond, where he  ran the Charles Flying Service.  Esther helped manage the flying service when her husband was calling on dealers.  She and Shelly had one son, James Shelly Charles, Jr., who was born in Winston-Salem.  Esther is shown in the photograph below, in 1929.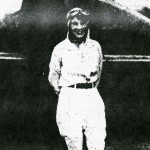 Esther passed away two years later from an illness, leaving her husband to raise their son.  Apparently the flying enthusiasm was passed from father and mother to their son, for Shelly Jr. entered the U. S. Air Force shortly after World War II, and was attached to the 49th Fighter Bomber Group in Marietta in 1951.  He flew more than 100 missions in Korea and earned the Distinguished Flying Cross and the Air Medal with oak leaf cluster.  He joined Eastern Air Lines after completing his military service, and retired in 1984.  He died in 2002.
James Shelly Charles retired from Eastern Air Lines, necessitated by a heart condition.  He passed away in 1959, and Paul passed away in 1994.
The Charles brothers, Esther Charles, and James Shelly Charles Jr. added another chapter to the flying history of Winston-Salem.  And, no, this is not an April Fool's story!