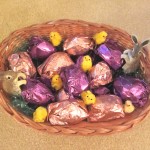 At this time of the year, our thoughts turn to spring and Easter.  Along with visions of crocuses, daffodils, and tulips, those in the know have already made, or are planning,  their trek to Kernersville to purchase a supply of  cream-filled chocolate-covered eggs.
These are not just any cream-filled chocolate-covered eggs.  These eggs are prepared by members of the First Presbyterian Church of Kernersville, and come in two flavors – coconut and peanut butter.
2015 marks the 25th year that the church has made and sold the eggs, with the number of eggs made and sold increasing each year.  In 2014, the church's Egg Crew produced over 79,000 eggs.  The project began as a fund-raiser, to reduce the church's debt.  After ten years of making and selling the eggs, the mortgage note on a new fellowship hall was burned, financed by the sale of chocolate eggs.
The church's website,  http://fpckernersville.org/index.cfm/ministries/easter-eggs/, gives a detailed history of the Easter Egg ministry, and lists many charities and community endeavors that the ministry supports.  Southern Living Magazine published a feature on the ministry in 2011, titled "The Egg Church."  This article is available for reading on the church's website.
Eggs can be ordered from the website, or by calling the church at 336-497-4919.  The eggs are also on sale at various retail locations in Forsyth County, and at the Seafood Shack in Walkertown.
The sweet treats are sold from March 1st until Easter, so grab your Easter basket and stock up…just a few weeks left and they're gone until next year!
PS  I've heard that they freeze well.
Photo by Molly Grogan Rawls (from her personal stash).   Pink foil indicates peanut butter and purple foil indicates coconut.