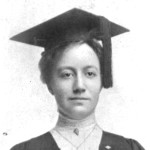 Anna Marguerite Fries was born on this day in 1892, in Winston-Salem, to Henry E. and Rosa Mickey Fries.
She attended Salem Academy and College, and graduated in 1911.  After graduation, she traveled abroad with her parents to Europe.
She was a member of Home Moravian Church, and taught a Sunday School class at Fries Memorial Moravian Church.  The church was named in honor of her father, Henry E. Fries, for his years of service with the Moravian churches.
Anna Marguerite was gifted in literature.  One of her poems, about Jesse Franklin's Ride, was published in the Winston-Salem Journal.
Anna Marguerite took part in special celebrations, such as the first trip on the Southbound Railroad in 1910, and the opening of the hydroelectric plant.
She caught scarlet fever during an outbreak in the city in 1916 and passed away from the disease.  At the time of her illness, there were about 50 cases of scarlet fever in town.  Dr. E. P. Gray, city physician, recommended to the Board of Health that the schools be closed.  Some events, such as revivals, were cancelled because of the scarlet fever outbreak.
The parents of Anna Marguerite issued a statement that they understood if their friends were not comfortable attending the funeral.  They said that they would receive friends at home after the funeral.
Photo courtesy of Forsyth County Public Library Photograph Collection.