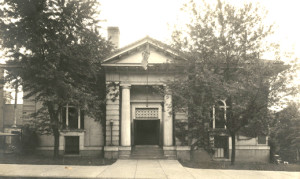 An announcement was made on this day in 1940, that a new book collection is available at the Carnegie Library.
The Ida Clifton Hinshaw Collection was recently established by the James B. Gordon Chapter of the United Daughters of the Confederacy (UDC).  The first book donated to the library by the UDC was "A Southern Harvest."
The new collection will concentrate on books of southern history and literature.
The announcement does not elaborate on the details of the donated book, but it could possibly be a volume of short stories by Southern writers, edited by Robert Penn Warren, published in 1937.  If this is the case, the Forsyth County Public Library no longer  owns the book.  There is a copy of the book in the Lee County Main Library, available through NC Cardinal.
Photo courtesy of Forsyth County Public Library Photograph Collection.