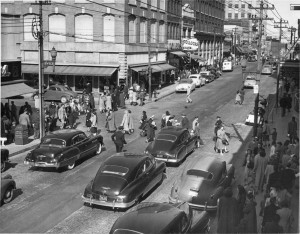 On this day in 1948, Winston-Salem began to experiment with one-way traffic on some of the downtown streets.
The photo shown above was made in 1950, and shows the intersection of West Fourth and North Trade Streets.  At this time, the traffic was one-way.  Traffic is particularly busy on this day, as residents make preparations for the upcoming Easter weekend.
One-way streets became the norm in downtown, with Fourth, Fifth, Liberty, Main, Cherry and Marshall Streets dedicated to one-way traffic.  Fourth and Fifth Streets just a few years ago reverted to two-way traffic.
Photo courtesy of Forsyth County Public Library Photograph Collection.