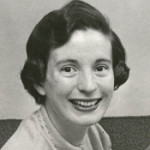 Jane Pepper Masich was born on this day in 1929, in Winston-Salem, to Thomas O. and Mallie Davis Pepper.
Jane graduated from R. J. Reynolds High School and attended Hollins College.  She married Anthony Melvin Masich Jr. in 1953.
Jane was active in many community organizations, such as the Junior League, the Children's Home, Rescue Mission, and Sunnyside Ministries.  She served as a volunteer for Forsyth Memorial Hospital for many years.
Jane also volunteered her time with the photograph collection of the Forsyth County Public Library.  She was very helpful in obtaining identifications for many of the "unidentified" photographs in the collection.  Through her personal connections, she sought out people who would have information that led to the identification of a person or a place in a photograph.
Jane passed away in 2011.
Photo courtesy of Forsyth County Public Library Photograph Collection.