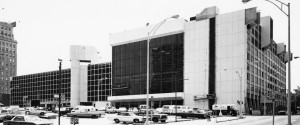 Beneath the Elms was a combination of a parking garage, an ice skating rink, a sidewalk cafe, and shops.  This area, which was adjacent to the new Hyatt Hotel, was dedicated on this day in 1974.
The Hyatt Hotel was built between Marshall and Cherry Streets, facing West Fifth Street.  Beneath the Elms was located at 420 N. Marshall Street.
The hotel was built on the site of the Robert E. Lee Hotel.  The new Cherry-Marshall parking garage was built on the site of the bus station.
The photo above shows the new Hyatt House in 1974.  The hotel is at the right, with the parking garage at the left.
The skating rink was situated below the parking garage, and provided some Winston-Salem residents their first ice skating experience.  The Ice Capades was in town, performing at the Memorial Coliseum.  Some of the skaters with the Ice Capades gave demonstrations at the dedication.
Photo courtesy of Forsyth County Public Library Photograph Collection.