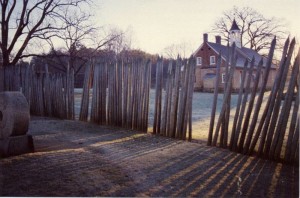 On this day in 1970, papers were signed for the incorporation of Historic Bethabara Park.
The park was a joint venture of the City of Winston-Salem and Forsyth County.
The photo above shows the palisade posts that stood upright at the fort site in Bethabara.  The fort was rebuilt in 1965 and involved 2,000 12-foot poles, from 4 to 8 inches in diameter, standing 10 feet above ground.  The original "Old Dutch Fort" was built in 1756 for protection against Native Americans during the French and Indian War and was removed in 1763.
Photo courtesy of Molly Grogan Rawls.