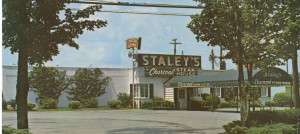 On this day in 1969, the Winston-Salem Journal announced that a 25% expansion to Staley's Charcoal Steak House on Reynolda Road has begun.
The expansion was made possible by an amendment to the zoning code adopted the previous fall.
The 1,478-sq.-ft. expansion will allow more than 70 new seats to be added to the restaurant.
The restaurant is owned by Kenneth Cheek and Lawrence Staley.
Photo courtesy of Forsyth County Public Library Photograph Collection.