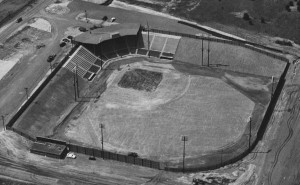 On this day in 1960, the first live telecast of a professional baseball game in North Carolina took place at Ernie Shore Field.
The premier telecast featured the Winston-Salem Redbirds and the Greensboro Yankees.
Greensboro won the ballgame.
The photo shown above was made in 1956, when the stadium was new.
Photo courtesy of Forsyth County Public Library Photograph Collection.