has always been full of red-letter days:  Groundhog Day, Valentine's Day, Abraham Lincoln's Birthday, and George Washington's Birthday.  Lately, Super Bowl Sunday has been added to the list of special occasions.
The Ringling Brothers Barnum & Bailey Circus came to Winston-Salem for many years.  In the early days, the circus people pitched their tents at the Fairgrounds. This photo is from 1938.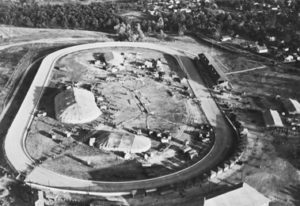 After the Memorial Coliseum was built, the circus moved inside and the performances usually took place around the middle of February.  Many people watched the circus train come into town.  Then, there was the animal walk from the train to the coliseum.  And the pageantry didn't end when the show closed because there was the walk back to the train and all that was involved in repacking the train so that it could be on its way to the next stop.
Here are several images that show the performers during the circus' run at the Memorial Coliseum in 1961.
With the announcement that the Barnum & Bailey Circus will end its performances and close during 2017, some of us will just have to show the younger generations images of the circus when we try to explain how we went to the circus for our February birthday celebration and looked forward each year to seeing "The Greatest Show on Earth."
Photos courtesy of Forsyth County Public Library Photograph Collection.
Stay tuned for the next delicious post on February 22nd: Easy Chili.