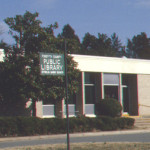 On this day in 1964, the Reynolda Branch of the Forsyth County Public Library was dedicated.  The library opened to the public on October 1, 1964.
The library was located across the street from Reynolda Manor Shopping Center on Fairlawn Drive.
The library was built by Jack Covington as a memorial to his wife.
Patronage grew over the years and new, larger library was built in the former Reynolda Cinema building.  The library opened in 1998.  The older building was used for library administration and outreach functions.
Photo courtesy of Forsyth County Public Library Photograph Collection.