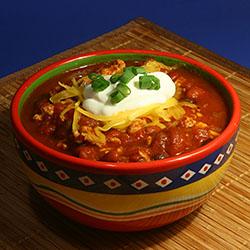 Chili has not always been a favorite dish for me because of the heat and spiciness of the dish and the complexity of selecting the perfect recipe.  Then, Hunt's offered a "Chili Kit" which consisted of cans of tomato sauce, diced tomatoes, red kidney beans, and a seasoning packet. So easy…until the kits were discontinued.  Fortunately I kept the labels from the cans and I was able to recreate my "chili kit" and cook my chili according to my tastes.  Here is the "chili kit" recipe which is still very easy and can be revved up for anyone who likes more heat and spice.  If you cook and refrigerate the hamburger the night before, you can even put everything in the slow cooker in the morning before work or before church on Sunday.  The amazing aroma will welcome you home.
Easy Chili
Ingredients:
15 oz. can tomato sauce
15 oz. can petite diced tomatoes
15 oz. can dark red kidney beans
1 package chili seasoning packet
1 pound hamburger, browned and drained
Directions:
Brown the hamburger and drain it on paper towels. Empty the cans of tomato sauce, diced tomatoes, and beans into a pot or a slow-cooker. Stir in the hamburger and the contents of the seasoning packet; combine all ingredients. Cook in the pot until contents are warm throughout.  The chili can be cooked on low for several hours in a slow cooker.
An alternate recipe is to double the amount of tomato sauce, tomatoes, and beans, and add 2 seasoning packets.  This makes the chili not quite so thick (do not double the meat), but nearly doubles the total amount of chili. Also, the type of chili seasoning can be varied, such as mixing "mild" and "original" for less heat, or it can be revved up by using extra hot seasoning packets.
Onions and/or chili's can be added to the mixture or served separately as toppings. Other toppings are cheese (all varieties) and sour cream.  A Kraft cheese package called "Mexican" consists of shredded Monterey Jack, Cheddar, Asadero, and Queso Quesadilla cheeses, and makes a good cheese combination for the chili.
Enjoy this cool-weather dish with crackers, cornbread, or your bread of choice.
Stay tuned for the next historical post on March 1st: "Winston Theatre: August 1967."