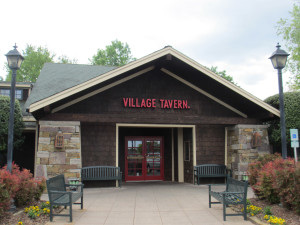 The Village Tavern, located in Winston-Salem at 2000 Griffith Road (pictured) and at Reynolda Village, is one of my favorite restaurants.  One of my favorite dishes at the Tavern, particularly as a luncheon item, is the spinach salad.  As delicious as the salad is on its own, it is accompanied by a warm and tasty apple walnut muffin.
As the spinach salad is a large serving, I often enjoy the Tavern's warm dinner rolls with my salad, and take my muffin home to eat with the remainder of my salad.  On two…yes, two occasions, a luncheon partner pilfered my muffin from my bread plate.  Perhaps they thought it was part of the bread offerings for the entire table.  Whatever the thinking, I lost my muffin.
I mentioned the fact that I loved the muffins to a server at the restaurant, and she told me that the muffins can be purchased in quantity from the restaurant.  I also decided to search for a comparable recipe through various food websites. Imagine my surprise when I found the muffin recipe on the Village Tavern's Facebook page at https://www.facebook.com/VillageTavern .  Go to the "More" tab and look at "Notes."
I used the recipe to bake the muffins, and the recipe produced 18 delicious, moist muffins.  The recipe is below.  Here is the link to the Village Tavern's website where you can read about the restaurant and their various locations, and view the menu, www.villagetavern.com.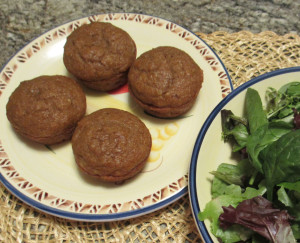 Village Tavern's Apple Walnut Muffins
Ingredients:
1 3/4 cup all-purpose flour
1/2 cup dark brown sugar, packed
1/4 cup granulated sugar
2 1/2 tsp. baking powder
1/4 tsp. baking soda
1 tsp. cinnamon, ground
1/8 tsp. allspice, ground
pinch nutmeg
1/2 tsp. kosher salt
1 cup apple pie filling (topping), drained, diced 1/4 inch
1 large egg
1/2 cup apple butter
1 tsp. vanilla extract
1/2 cup applesauce
6 Tbsp. canola oil
2 Tbsp. molasses
1/4 cup walnuts, chopped*
Directions:
Preheat oven to 350 degrees.  Lightly grease muffin cups or line with paper liners.  In a large bowl, combine flour, brown sugar, granulated sugar, baking powder and soda, spices, and salt.  Stir in chopped apple pie filling.  Whisk together egg, apple butter, vanilla extract, applesauce, canola oil, molasses, and chopped walnuts.  Stir into dry ingredients until just combined.  Do not over mix.  Fill prepared muffin cups about 2/3 full.  Bake for 18 to 20 minutes, until lightly browned.  Makes 18 regular-sized muffins.
*Note: I used 1/2 cup chopped walnuts, which I also lightly toasted.
Photos by Molly Grogan Rawls.