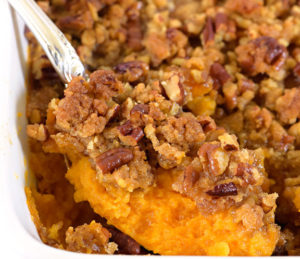 Sweet Potato Casserole
Ingredients:
3 cups mashed sweet potatoes
1 cup granulated sugar
½ tsp. salt
1/3 stick margarine or butter, melted or soft
½ cup milk
1 tsp. butter flavoring
1 tsp. sherry flavoring
2 eggs, beaten
Topping:
1 cup brown sugar
1/3 cup flour
1/3 stick margarine or butter
1 cup chopped nuts
Directions:
Combine all ingredients (other than the topping ingredients) and put into a greased 9×13 dish.
Prepare the topping and sprinkle over the sweet potato mixture.  Bake at 350 degrees for 35 minutes or until the casserole is thoroughly heated and bubbling.
This recipe also freezes well and can be prepared, frozen, defrosted, and then cooked.
Enjoy!
Stay tuned for the next historical post on December 22nd: "Christmas at Calvary Moravian Church…Then and Now."