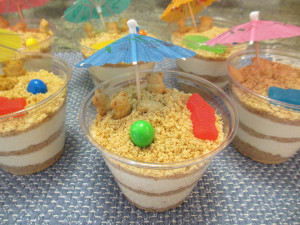 Have some delicious fun preparing and eating these sand pudding cups this summer.  They make a light and cool dessert that can be prepared ahead of the meal, and they keep well in the refrigerator for several days.
The recipe that follows makes 12 cups.  It can also be easily divided in half if the group to be fed is small.
Ingredients:
1 package vanilla sandwich cookies (Golden Oreos, 36 in a package)
5 graham crackers
2 small boxes vanilla instant pudding mix
milk (prepare according to the instant pudding recipe, usually 2 cups per box)
8 oz. package cream cheese, softened
12 oz. Cool Whip
12 plastic cups (clear or lightly colored for seeing the layers)
24 Teddy Grahams (can also use the mini's)
12 mini umbrellas (found these at Party City)
12 colorful candies to resemble beach balls (jawbreakers, gumballs, peanut M&M's), and other "beachy" candies, such as the candy fish shown in the photo
Instructions:
Blend the cookies and graham crackers in a food processor or blender until they are crumbs.
Mix both boxes of vanilla instant pudding according to package directions.
Blend the cream cheese with the pudding, then fold in Cool Whip.  (It helps to have the cream cheese very soft, so that it mixes well with the pudding, to avoid lumps.)
Layer a small amount of cookie crumbs and a few spoonfuls of pudding, beginning and ending with cookie crumbs.  Gently tap the cup on the counter to help flatten each layer.
Chill the cups in the refrigerator for at least 30 minutes.
Decorate the cups before serving.  You can also decorate, then chill, but be aware that the mixture will be soft and the mini teddy grahams sink a bit.
Enjoy!
Photo by Molly Grogan Rawls.