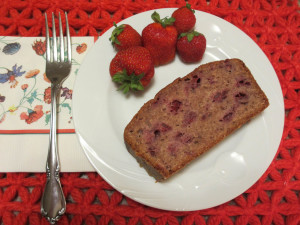 Roadside signs announcing fresh strawberries began appearing in Forsyth County about two weeks ago.
If you're fortunate enough to have fresh, juicy and delicious berries on hand, you might consider making strawberry bread.
The recipe makes two large loaves…one to eat and one to share.  The bread is so moist that it doesn't need a topping.   If you haven't consumed the entire loaf in a few days,  refrigerate the remaining bread to prevent it from molding.
Ingredients:
3 cups all-purpose flour
2 cups sugar
1 tsp. baking soda
1 tsp. cinnamon
1 tsp. salt
4 eggs, beaten
1 1/4 cups vegetable oil
3 cups chopped fresh strawberries
Instructions:
Combine the first five ingredients in a large mixing bowl.  Make a well in the center of the mixture.  Combine the remaining ingredients and add them to the dry ingredients, stirring until well combined.
Spoon the mixture into 2 greased and floured 9x5x3-inch loaf pans.  Bake at 350 degrees for 1 hour.  Cool loaves in pans about 10 minutes, then remove from pans and let cool completely on wire racks.
Yield: 2 loaves
Enjoy!