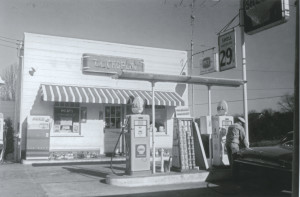 There was a time, not terribly long ago, when the area around Reynolda Manor Shopping Center on Reynolda Road was outside of the city limits of Winston-Salem.  The area was largely rural, with a few businesses scattered about.
Reynolda Manor opened in 1963, located on a large piece of land that was formerly a horse pasture.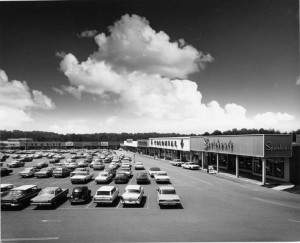 Before Reynolda Manor was built, Fairlawn Drive did not extend to Reynolda Road, so one could walk from Town & Country Estates (or even farther down Reynolda Road), to Polo Road, and not cross a street with oncoming traffic.  This made walking to Crystal Lake very handy for many people during the summertime, especially for children and parents with children, who had no other means of transportation.
Tommie Leon Choplin owned and operated Choplin's Grocery and Shell Station at 2907 Reynolda Road, near Old Town Drive.  Tommie and his family lived at the same location.  Tommie was married to Marie Thacker Choplin.  The top photo shows the grocery store/gasoline station, and Tommie is manning the gas pump.  The price of gasoline at this time was 29-cents, and included personal service!
The store had a wooden floor and carried a good supply of grocery staples.  There was a meat department in the back of the store.  School children catching the bus to Old Town School waited in the mornings at Choplin's store.  It was a warm and dry place to wait, and the well-stocked candy counter often tempted students to part with their lunch money.
The photo shows a soft drink machine in front of the store, and there are cartons of empty glass bottles lined up in front of the store.  Empty bottles could be returned for cash refunds, so it was profitable to return them to the store.  In fact, any glass soft drink bottles could be cashed in for refunds, so youngsters would ride their bikes and search for bottles thrown away, to collect the refunds.  The advent of plastic bottles ended that enterprise.
Tommie operated the store for about 23 years.  It was replaced with a larger gasoline station, and in 2015 a larger station with a convenience store is located there.
McDonald's is across the street, and a new Harris Teeter Grocery Store opened recently nearby.  Reynolda Manor Shopping Center has continued to grow and add new stores, as older businesses have closed.
The area is definitely no longer rural.  Reynolda Road is no longer a two lane road.  In fact, a stop light was installed to help traffic move onto Reynolda Road from Old Town Drive, and to turn into McDonald's.  Now, what would Tommie say about that?
Black and white photographs courtesy of Forsyth County Public Library Photograph Collection.