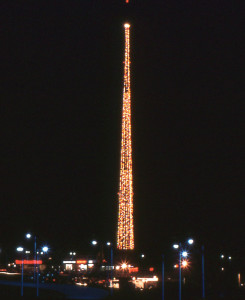 Many of us have great memories of celebrating Christmas in Winston-Salem.  Based upon the number of requests for copies of the WTOB Tower image over the years, it was an important feature of the Thruway Shopping Center.
Black and white photos of the tower show the height of the tower,  and one can imagine the colorful lights that reached into the night.
Thanks to Dave Montgomery and his color photo of the tower, we can see the lights that illuminated the sky around the Thruway Shopping Center for many years.
The Thruway Shopping Center opened on Stratford Road in 1955.  The Smokehouse was a structure that ran perpendicular to the end of the shopping center, near Oakwood Drive.  The Smokehouse once housed a business that sold meat that was raised on several local farms.  The Smokehouse was completely renovated in 1956, and welcomed new businesses.  One of the businesses was the radio station, WTOB.
A large tower was built behind the Smokehouse building for WTOB Television in 1953.  It was 580-feet-tall, and was built by a Texas rigging company.  It was strung with 3,600 colorful bulbs and was first lighted on the evening of the city's Christmas parade in 1957.  It was advertised as the "Tower of Lights," and it was described as "The Tallest Christmas Tree in the World."
Probably the first time the lights were removed from the tower was when the tower was painted in 1962.  Leon Lee, from Mt. Holly, removed the strings of lights, then spent 3 Sunday's and 125 gallons of paint to complete the painting job.  He was painting on Sunday because the businesses were closed and the paint would not splatter on the cars below the tower.
The painter became the photographer when Jim Keith approached the tower climber to make a photograph for a news report.  Leon's brother and co-worker, Richard Lee, commented on the great view from the tower.  Newspaper photographer Jim Keith said he thought it would be a great view, but he wasn't going to climb the tower.  Richard volunteered, climbed the tower, made photographs, and returned the camera to Jim Keith.  Jim wrote an article for the newspaper, illustrated with photographs that he and Richard took that day.
Color photograph of the WTOB tower courtesy of Dave Montgomery.