The Dalton-Hege Company needed an official address.  For years, the radio and electronics supply business was described as being located "in the alley off Brookstown," or the rear of 914 West Fourth Street."
The advertisement shown below was printed in 1961, showing their new location at 938 Burke Street.  The new 30,000 square-foot building cost $200,000 when it was built in 1959.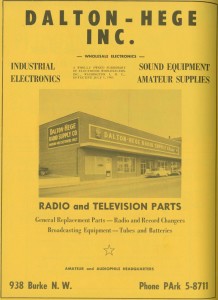 Partners in the business (shown below) were  Allie Lee Hege – secretary and treasurer, Andrew Bruce Lewis – vice president, and Herman Lee Dalton – president.  Herman's wife, Mary, was the assistant secretary and treasurer for the company.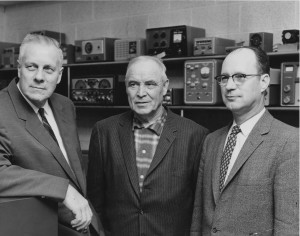 Hege and Dalton were in service during World War II at the Naval Air Station in Norfolk, Virginia.  When they returned to Winston-Salem after the war, they decided to open an electronics supply business.  Bruce Lewis offered to help finance the business, and Dalton-Hege Company opened in 1946.  It was a wholesale radio supply company that sold parts and components to a range of customers, from individual repairmen to purchasing agents for corporations.
Allie Hege was manager of the radio department for Brown-Rogers-Dixson Company in the 1920s.  He then operated Hege Radio Repair Company, which was the dealer for Philco Radios, and he offered radio service and repair.
Herman Dalton was previously a salesman with C. R. Williams Radio Company.
Andrew Bruce Lewis was involved in property management.
Interest in electronics mushroomed after World War II, including hi-fi equipment and television.  Also, Western Electric's presence in Winston-Salem added to the interest.
The photo below shows an interior photograph of the business on Brookstown Avenue, in 1949.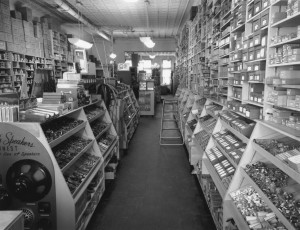 The new Burke Street store was divided into three sections, for hi-fi equipment, parts, and amateur radio merchandise.  The hi-fi section had a specially-built room for demonstrating sound reproduction equipment.  They also hired specialists in the electronics field to advise customers.  Electronic Wholesalers bought the business in 1961.  Notice the revised name on the side of the building in the photograph below.  After the business was sold, the men established the Dalton-Hege-Lewis Real Estate business, which was situated in the Brookstown Avenue area, just one block away from their first location.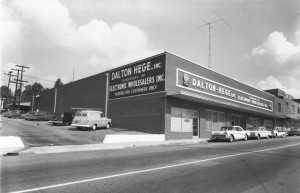 This photo above shows the Burke Street location in 1961.  Over the years, several businesses have occupied this building, such as the E. W. Cramer Company.  In the mid-1990s, State Farm Insurance Company had an office in the building, as did Jewell Interiors.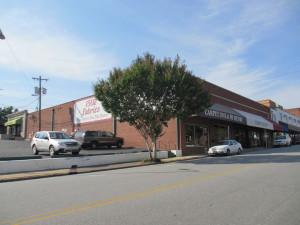 In 2015, Carpet One by Henry and 1502 Fabrics are located in the Burke Street building.
Archival photographs courtesy of Forsyth County Public Library Photograph Collection.
Current photograph by Molly Grogan Rawls.