On this day in 1964, Thalhimers Department Store opened at Thruway Shopping Center.
The 20,000-square foot store was the 15th unit in the Thalhimers chain and the largest of the branches.
One feature of the store was the interior decoration which attempted to make each department an individual shop.  There were no signs designating the departments, but the decor was intended to fit the content of the departments.
The building was designed by Lashmit, Brown and Pollock.  Fowler-Jones Construction Company was the general contractor.
The photo above shows the new section of the Thruway Shopping Center that included the Thalhimers Store, which was close to the center of the photo.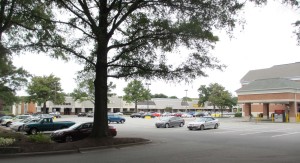 The photo above shows the Thruway Shopping Center in September 2014.
Black & white photo courtesy of Forsyth County Public Library Photograph Collection.
Color photo courtesy of Molly Grogan Rawls.