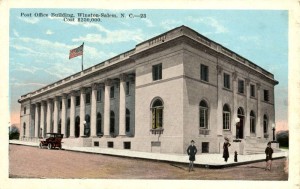 On this day in 1915, the new Post Office opened on the corner of Fifth and Liberty Streets.  This building was an expansion of the 1906 building that was first built at this site.
The 1915 building stretched along Fifth Street from Liberty to Trade Street.  A 1938 expansion doubled the floor space, adding 13,000 square feet to the back of the building.
This building served as the Main Post Office until another post office was built at 1500 North Patterson Avenue.  The building is known as the Millennium Center today.
Photo courtesy of Molly Grogan Rawls.