Frank Jones was a local newspaper photographer and a member of Calvary Moravian Church.  He often photographed events at Calvary and used these images in newspaper features during his tenure at the Winston-Salem Journal.  To see other photographs taken by Frank Jones and other photographs of Calvary Moravian Church, see the library's photo website: www.digitalforsyth.org.
The sepia image shows the sanctuary at Calvary Moravian Church in December 1916.  The sanctuary from 1916 does not exist today, since the sanctuary was removed and rebuilt in the 1920s.  The color image shows the sanctuary in 2016, tastefully bedecked with greenery, an Advent wreath with beeswax candles, hanging wreaths with red bows, and a large Moravian star.
The stunning stained glass window depicting the Nativity at Calvary Moravian Church is shown during a lovefeast in December 1957 and in December 2016.
The black and white image above (undated) was taken in the sanctuary at a Christmas lovefeast and the color image was taken in 2016.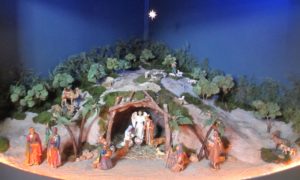 The lighted Nativity resides in the foyer of Calvary Moravian Church.
Merry Christmas and Happy New Year!
Black and white photographs from the Forsyth County Public Library.  Color photos by Molly Grogan Rawls.
Stay tuned for the next historical post on January 1st: Postcard Greetings in 2017!