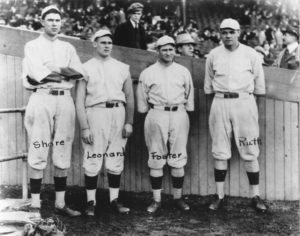 These men are instantly recognizable to baseball fans just by their last names: Shore, Leonard, Foster, and Ruth.  For those whose baseball knowledge does not go back to 1916, the men are Ernest Grady "Ernie" Shore, Hubert Benjamin "Dutch" Leonard, George "Rube" Foster, and George Herman "Babe" Ruth Jr.
Ernie Shore was a Yadkin County native who served Winston-Salem as sheriff for 34 years.  Read more about Ernie Shore at http://winstonsalemtimetraveler.com/2014/03/24/march-24-happy-birthday/
The photo is thought to have been taken at the 1916 World Series between the Boston Red Sox and the New York Yankees.  These men were the pitchers for the series which was won by Boston.
Photo courtesy of Forsyth County Public Library Photograph Collection.
Stay tuned for the next delicious post on October 22nd: Owl Cookies (They're a hoot!)