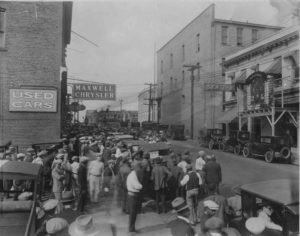 The crowd of onlookers consisted mostly of men, some in suits and hats, others dressed more casually.  But all of their attention was focused on a structure situated atop the scaffolding that was attached to the Sentinel Building in the 200 block of North Main Street.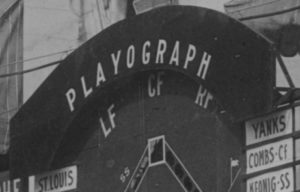 The structure was called a "Playograph."  In the center of the Playograph was a baseball diamond with large squares to indicate the bases.  The teams and players were listed on either side of the baseball diamond, and the outfield was indicated with letters such as "LF," "CF," and "RF." Near the bottom of the board were the words, "Strike," "Ball," "Out," and "Runs," with a square beside each word.  At the bottom of the board was a scoreboard with the number of the inning and numbers that indicated the number of runs for each inning.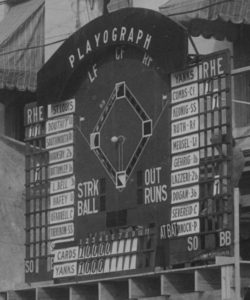 For baseball fans who wanted to catch a little of the action for the 1926 World Series, this was a good substitute for being at the game. The St. Louis Cardinals were playing the New York Yankees in the World Series, and at the moment when the photograph was taken, in the second half of the fifth inning, the game was tied, 1 to 1.  What we cannot see in the photograph, but was visible to the spectators, were lights on the board that indicated how many strikes, balls, outs, and runs were on the board. Also, we cannot see the lights on the bases that indicated the location of the base runners.
The report of the game was sent over the Sentinel press tickers, play by play, and the action played out on the Playograph board.  It was very realistic for the spectators.  An "at bat" sign was placed beside the name of the player who was currently at bat.  So, who needed announcers for this game?  Everything necessary for knowing what was going on in the game was shown on the Playograph board.
The Playograph was financed by Powell Gilmer, owner of Salem Motors and Motor Sales Company.  A section of Liberty Street was closed during the ballgames to provide safety for the onlookers.
The first game of the World Series took place on October 2, 1926.  If you look at the names on the board for the Yankees, you'll notice the name of "Ruth," who was Babe Ruth.  The Yankees won the first game of the series, and Babe Ruth broke several records during the series.  He hit three homeruns in game 4.  Despite all of Ruth's efforts, the St. Louis Cardinals won the series.
Photos courtesy of Forsyth County Public Library Photograph Collection.
Stay tuned for the next delicious post on October 22nd, and the next historical post on November 1st: Postcard to Mamie: 100 Years Ago.