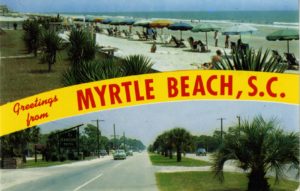 Myrtle Beach was once dotted with many small travel motels and cottages.  There were also many large hotels, such as the Ocean Forest Hotel, which stood for many years along the Grand Strand.  Another well-known lodging location was the Patricia Manor and the Patricia.
North Kings Highway featured many restaurants that served three meals a day and some that were only open part of the day.  Two of the restaurants are shown on the postcard below: The Steak House (beef and seafood) and Raimondo's North (Italian cuisine and seafood).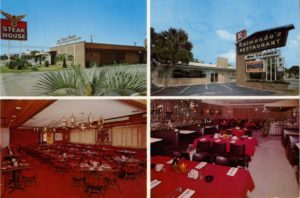 The photo below shows Myrtle Beach in July 1956.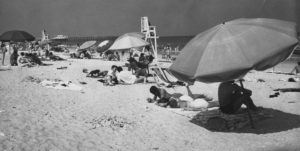 The photos below show  Winston-Salem residents at Myrtle Beach in June 1969.  The photos were taken by Winston-Salem Journal photographer, Frank Jones, and were printed in a Winston-Salem Journal article on June 15th, 1969.  The students attended North Forsyth High School and West Forsyth High School.
Postcards courtesy of Molly Grogan Rawls.  Black & white images are courtesy of Forsyth County Public Library Photograph Collection.
Stay tuned for the next delicious post on July 22nd and the next historical post on August 1st: Holly Avenue House.