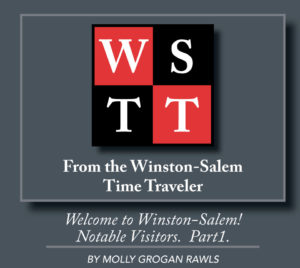 The colorful July 2017 issue of Forsyth Woman Magazine is available now.  Look for copies of the magazine at restaurants, grocery stores, YMCA's, and many local businesses.
The Winston-Salem Time Traveler feature is located on page 80 of the July issue.  The feature this month is part one of a three part series on notable visitors who came to Winston-Salem over the years.  Some of the names will be familiar, while some names may be lost to time.
Part 1 of the notable visitors feature focuses on presidents, vice presidents, and presidential candidates who came to Winston-Salem either as a current or former office-holder.  One candidate was represented by his mother…any guesses as to which one?
Enjoy reading about these individuals who spent time in our city, and by visiting here, became a part of our local history.
Stay tuned for the next historical post on July 15th: Road Trip: More Myrtle Beach.  Also, tune in for the next delicious post on July 22nd: Fresh Peach Cake. Yum!