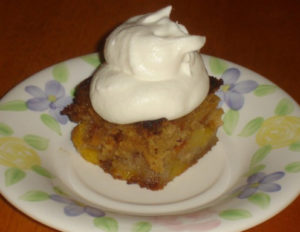 There's a world of difference in the taste of fresh and commercially canned peaches.  In the South, we have access to fresh peaches coming from Georgia, South Carolina, and North Carolina.
This cake recipe is reminiscent of a light coffee cake, with the delicious taste of fresh peaches.
Fresh Peach Cake
Ingredients:
½ cup (1 stick) butter or margarine
1-1/2 cups brown sugar, packed
1 egg
2 cups all-purpose flour
1 tsp. baking soda
1 tsp. salt
1 cup buttermilk
2-1/2 cups ripe peaches, peeled and diced
¼ cup granulated sugar
1 tsp. cinnamon
Directions:
Cream butter with brown sugar until light and fluffy.  Beat in the egg.
Sift flour with baking soda and salt; add to creamed mixture alternately with buttermilk, beating until smooth after each addition.
Gently blend in peaches.
Pour into a greased 13" x 9" pan.
Mix cinnamon and sugar then sprinkle the mixture over the top of the cake batter.
Bake in a 350 degree oven for 30-35 minutes or until done
Top the cake with Cool Whip or vanilla ice cream and enjoy!
Stay tuned for the next historical post on August 1st: Holly Avenue House.