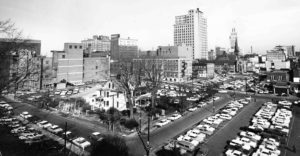 At the corner of Holly Avenue and Poplar Street, in the parking lot of a busy and popular department store, one house stood as the last residence in the block.  This photo was taken in 1963 from Calvary Moravian Church and shows the Fearrington-Croom house.  Spruce Street and West Fourth Street are the other two streets that make up the block.
On the opposite corner from the house is the Thalhimers Department Store that fronts on West Fourth Street.  It eventually expands to cover the entire West Fourth Street side of the block.
The YMCA can be seen fronting on Spruce Street, with a parking lot beside it that extends to Marshall Street.
In the background, the taller buildings are (from left) Security Life, Robert E. lee Hotel, Carolina Hotel & Theatre, Nissen Building, and Reynolds Building.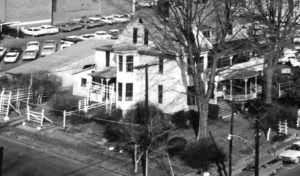 The Fearrington-Croom house was built by George Brown of Brown & Williamson Tobacco Company about 1885.  The name of the street was Third Street, although Third Street did not extend straight through.  The name was changed to Holly Avenue in honor of the many holly trees that bordered the street.  Dr. Joseph C. Pass Fearrington bought the house about 1898 for his family.  George Brown and his wife moved to 101 W. 7th Street to live with her father, Dr. V. O Thompson.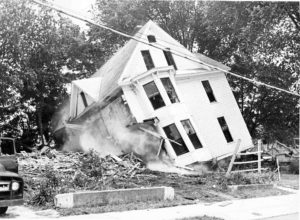 The house was demolished June 26, 1971.  Elizabeth Fearrington Croom (daughter of Dr. Fearrington) was the last resident of the house.  She recalled that the house contained the first inside toilet in Winston and remembered when it was installed, about 1921.  The old outhouse was kept on the property, but it was rolled under the garage in the backyard.  The house, garage, and the outhouse were all demolished.  Trees were removed from the property and the land was leveled, providing more parking for Thalhimers and downtown shoppers.
Photographs courtesy of Forsyth County Public Library Photograph Collection.
Stay tuned for the next historical post on August 15th: Winston-Salem Places – Then and Now: Part 4.