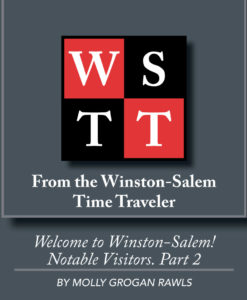 Entertainers of all types visited Winston-Salem throughout the years.  Some of the individuals made more than one appearance, such as Ava Gardner, because her sister lived in town.
Other entertainers came through on a tour where they swept into town, performed, maybe spent the night, and headed off to the next town the following day.
The Winston-Salem Time Traveler article in this month's Forsyth Woman Magazine tells about six women entertainers who spent some time in town, including one woman who made a big difference in at least one person's life.
Find a copy of the August issue of Forsyth Woman Magazine and read about these women who made their presence known in Winston-Salem.
Stay tuned for the next historical post on August 15th: Winston-Salem Places – Then & Now. Part 4.