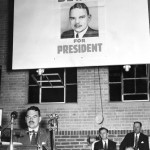 On this day in 1940, Thomas E. Dewey brought his campaign for the presidency to Winston-Salem.
Republican presidential candidate Dewey spoke to a packed audience in the Reynolds Park gymnasium.  The topic of his talk was "What America Faces."  Dewey touched on many points related to his campaign, including comments that criticized President Roosevelt's "New Deal."
Thomas Dewey was a New York district attorney.  He came to Winston-Salem as part of a Western North Carolina counties tour, accompanied by his wife.
Photo courtesy of Forsyth County Public Library Photograph Collection.