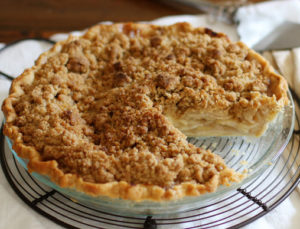 Autumn and apple pie are synonymous, and this apple pie recipe is full of apple-goodness, with a delicious crunchy topping of oats, brown sugar, and pecans.
Crumb-Topped Apple Pie
Ingredients:
2 cups all-purpose flour
2/3 cup firmly packed brown sugar
½ cup uncooked regular oats
½ tsp. salt
1/3 cup chopped pecans (toasted)
¾ cup butter or margarine, melted
4 cups peeled, thinly sliced cooking apple (about 3 apples)
1/3 cup sugar
1-1/2 tsp. cornstarch
1/8 tsp. salt
¼ cup water
½ tsp. vanilla extract
Directions:
Combine first 5 ingredients; add butter and stir until blended. Measure 1 cup firmly packed mixture; set aside for pie topping. Press remaining mixture in bottom and up the sides of a well-greased 9-inch pie plate. Arrange apple slices in pie plate; set aside.
Combine 1/3 cup sugar, cornstarch, and 1/8 tsp. salt in a small saucepan; stir in water. Bring to a boil over medium heat; stir in vanilla. Pour hot mixture over apples; crumble reserved topping over pie.
Bake at 350 degrees for 42 minutes, covering with aluminum foil during the last 15 minutes to prevent excessive browning, if necessary. Serve with ice cream and enjoy!
Note: I added more pecans and I sprinkled cinnamon over the apples.
Stay tuned for the next historical post on November 1st: