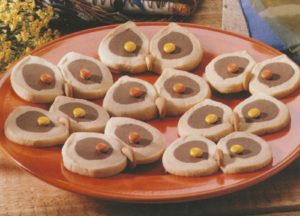 Just in time for the fall/Halloween season, these cookies are fun to make and they are tasty!
Owl Cookies
Ingredients:
1 cup packed brown sugar
¾ cup butter, softened
1 egg
1 tsp. vanilla extract
2-1/2 cups all-purpose flour
2 tsp. baking powder
¼ tsp. salt
1 square (1 ounce) unsweetened chocolate, melted
¼ tsp. baking soda
Orange and yellow M&M's
Whole cashews
Directions:
In a mixing bowl, cream brown sugar and butter. Add egg and vanilla; mix well. Combine flour, baking powder and salt; add to creamed mixture.
Remove two-thirds of the dough; roll into an 8-inch square on waxed paper and set aside. Combine chocolate and baking soda until thoroughly blended; beat into remaining dough. Shape into an 8-inch long roll; place on edge of white dough.  Wrap white dough around roll and pinch seam together.  Wrap in plastic wrap.  Refrigerate for at least 2 hours.
Unwrap and cut into 1/4-inch slices. To form owl's face, place two slices side by side on a lightly greased baking sheet. Pinch dough at the top of the circles to form ears.  Place M&M's in the center of each circle for eyes.  Place a cashew in the center of the face for the beak.
Bake at 350 degrees for 9-11 minutes or until edges are lightly browned. Cool for 2 minutes before removing to a wire rack.
Yield: about 1-1/2 dozen.
Note: Most of the M&M's crack during the baking process, but that is not shown in the photo.
Enjoy the cookies.  They're a hoot!
Stay tuned for the next historical post on November 1st: "Can you Identify? (Whooo are these people?)