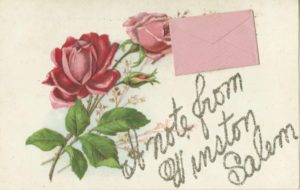 In the early 1900s,  people sent postcards  in the same way that we might pick up the telephone and make a call to a friend.
The postcard writer dated the card, "January 7, 1908."  It is addressed to Eleanor Phillips at Rural Hall, and it is from "Ben."  The postcard was not mailed, so there is no postmark.  It was printed in Germany, as were many of our early postcards.
The card is addressed to "Dear Friend," and it is signed "Best wishes, Sincerely, Ben."  Ben asks how Eleanor is doing and tells her that he has been hauling wheat this evening.  He also says that he is sorry that Eleanor cannot stay until Sunday and that he tried to call her mama but could not get in touch.
The novelty postcard shown above combines a postcard with a letter.  Notice the small, pink envelope attached to the postcard.  Does the flap open to reveal a very small message in the envelope?  Oh, yes it does!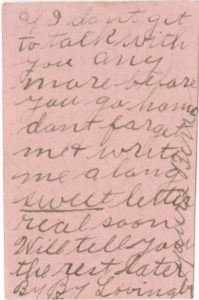 In the small note (1-1/8 " x 1-3/4″), Ben says, "If I don't get to talk with you any more before you go home don't forget to write me a long sweet letter real soon. Will tell you the rest later. By By Lovingly yours, Ben."
The identity of Ben remains a mystery, especially since no last name is given.  But the clues are very conclusive that Eleanor Phillips (1887-1980) was the daughter of Dr. Thomas J. Phillips (1863-1891) and Lenora Josephine Vest Phillips (1864-1929).  She married Henry Turner Apperson (1880-1980) in 1911 and they lived in Yadkin County.  Both Eleanor and Turner died in 1980.  Turner reached the age of 100 years and 3 days.  They did not have children.
The photo above shows Eleanor and Turner at the time of their marriage in 1911.  The second photo shows Turner with his parents, Laura Ann Miller Apperson and Peter Alexander Apperson about 1899.  There is also some indication that Eleanor and Turner were distantly related.
Postcard courtesy of Molly Grogan Rawls.
Photographs courtesy of Forsyth County Public Library Photograph Collection.
Stay tuned for the next historical post on January 15th.