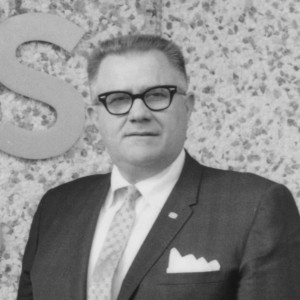 Lawrence Staley (shown above) was no stranger to cooking and diners when he came to Winston-Salem in 1935 and opened a combination cafe and filling station at Valley View.  The cafe had 10 counter stools.  Lawrence was in business with his brother, Wayne, in Roaring River.  Their specialty was barbecue, but they also offered a variety of sandwiches, including hot dogs and hamburgers.  The Staley brothers cooked, and filled cars with Quality Oil gasoline.
In 1937, Quality Oil built a larger and better building on Reynolda Road, at the site of the drive-in.  Wayne sold his interest in the partnership to Lawrence in 1940 and joined the merchant marine.  He returned to Winston-Salem occasionally and helped Lawrence in his restaurants.
There was a gasoline station near the corner of Stratford Road and Knollwood Street.  In the mid-1930s, the station was enlarged and transformed into a cafe with a dining room.  Booths were installed around the walls of the dining room, and the center of the room was for dancing to the jukebox tunes.  Patrons mostly danced, drank beer and played pinball.  Since the cafe was open 24 hours a day, loud music could be heard day and night.  But there were no neighbors around, so there were no objections to the noise.  Beer could be sold 24 hours a day until about 1943.  Gradually, the dancing area was replaced with more dining tables.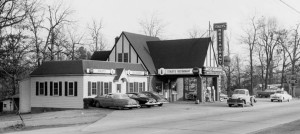 Lawrence leased the building in 1951 and inherited the patrons who were more interested in drinking than eating.  He added a curb service, and gradually the patronage grew and even created traffic jams for cars coming into the cafe and drive-in.  The cafe became a popular hang-out and gathering spot for teenagers over the years.
By 1963, Lawrence owned six restaurants by himself and co-owned another restaurant with Ken Cheek.  His restaurants included two on Reynolda Road, one on Stratford Road, one at Parkview (Waughtown Street and High Point Road), one at Northside Shopping Center, one at Danville, and one at Roaring River.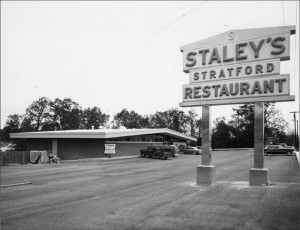 In 1963, three of his restaurants were being upgraded.  Two upgrades included the Reynolda Road properties discussed earlier.  The third upgrade included a new, modern, brick, stone panel, and glass building for the Stratford Road restaurant (shown above), which would seat 250 people.  The old, wooden structure was demolished shortly before the brick building was completed.
A few plans changed from the original restaurant announcement.  Curb service was dropped, but a take-out room at the back of the building was added to provide a place for patrons to come in, place an order, and wait for the order to be filled.  Another change was in the seating projection, which was reduced to 245 because the purchase of larger and more comfortable chairs and counter stools took out five seats.
The front of the restaurant resembled a coffee shop, with teakwood counters and table tops, plus booths and tables, and there were murals of Chicago on the walls.  A dining room was located to the left of the coffee shop, and featured dividers that could create smaller meeting rooms.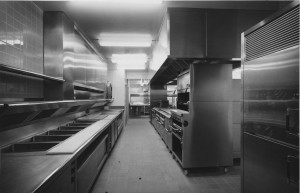 The kitchen was at the back of the coffee shop, but the basement contained a larger prep room, with walk-in coolers, storage and washing areas, and utilities equipment.  The staff consisted of manager, Walter Elmore, and 40 employees who provided 24-hour a day service, seven days a week.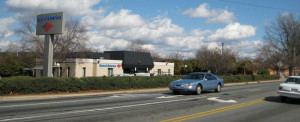 The restaurant was later demolished and replaced with a Bank of America branch bank.  The photo above was taken in 2009 (MGR).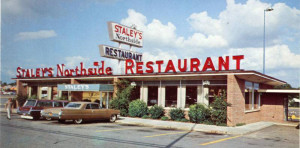 Lawrence opened a restaurant with curb service at Northside Shopping Center in 1960.  The restaurant was previously called "Leroy's Restaurant." The restaurant seated more than 150 people, with booth, table and counter service available.
Black and white images are courtesy of Forsyth County Public Library Photograph Collection.  Color images are courtesy of Molly Grogan Rawls.
Stay tuned for the next historical post on February 29th…also with a Staley's connection.