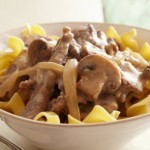 Enjoy a warm, stick-to-the ribs meal when the temps start to plunge.
Beef Stroganoff
Ingredients:
1 Tbsp. all-purpose flour
½ tsp. salt
1 lb. beef sirloin, cut into ¼-inch strips or small cubes
2 Tbsp. butter
1 pkg. fresh sliced mushrooms
½ cup chopped onion
1 clove garlic, minced
2 Tbsp. butter
3 Tbsp. all-purpose flour
1 Tbsp. tomato paste
1 ¼ cups cold beef stock or 1 10 ½ oz. can condensed beef broth
1 cup dairy sour cream
2 Tbsp. dry white wine
Directions:
Combine the 1 Tbsp. flour and the salt; coat meat.  Melt 2 Tbsp. butter in skillet; add meat and brown quickly on both sides.  Add mushrooms, onion, and garlic; cook till crisp-tender, 3 or 4 minutes.
Remove meat and mushrooms from pan.  Add 2 Tbsp. butter to pan drippings.  Blend in the 3 Tbsp. flour.  Add tomato paste; stir in beef stock.  Cook and stir till thickened and bubbly.
Return browned meat and mushrooms to skillet.  Stir in sour cream and wine; cook slowly till hot.  Do not boil.
Serve over hot buttered noodles.  Add a salad and the meal is complete.
Enjoy!