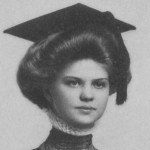 Maude Carmichael Williamson was born on this day in 1890, in Winston-Salem, to Robert Emory and Alice Miller Carmichael.
Maude attended Salem Academy and Salem College.  She graduated from Salem College in May 1909, and married Reverend Elgin Eugene Williamson three weeks later.
Reverend Williamson was formerly the minister at Burkhead Methodist Church, and was pastor at Calvary Methodist in Charlotte, at the time of their marriage.  They lived in several towns in western North Carolina.  After this death in 1937. Maude and their daughter, Alice, returned to Winston-Salem and lived with Maude's parents on Hawthorne Road.
Maude worked for Draft Board Three during World War II, then worked as coordinator for all four draft boards.  After the war, she worked as an analyst for Western Electric.  She also worked for Montaldo's and McPhails.
Maude was a member of Centenary Methodist Church and taught a Sunday School class there for many years.  She was also a member and officer for the Altrusa Club.
Maude passed away in 1992.
Maude is shown above in her 1909 graduation photo from Salem College.
Photo courtesy of Forsyth County Public Library Photograph Collection.