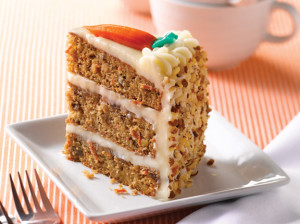 Carrot cake is a special dessert for any occasion, but it definitely makes a hit at Easter.  When my Aunt Irene gave me a cookbook from Christ Church in New Bern, she told me that everything in the cookbook was wonderful.  I quickly spied the carrot cake recipe, and have made it on many occasions.  When my son (in Seattle) requested it for his birthday one year, I made it and mailed it across the country.  This year, the Easter Bunny will make the special delivery.  For mailing, make sure the icing is not too runny and cut the slices thick and rectangular.  Wrap the slices in plastic wrap and pack them into a plastic container.  Refrigerate the cake until time to package it for mailing.
Here's the recipe…
Carrot Cake
Ingredients for the cake:
2 cups all-purpose flour, sifted
2 cups sugar
1/4 tsp. salt
1 tsp. baking powder
1 tsp. baking soda
1 tsp. cinnamon
4 eggs
1 1/2 cups vegetable oil
2 cups carrots, grated
Directions for carrot cake:
Preheat oven to 350 degrees.  Grease and flour three 9-inch layer cake pans. Sift dry ingredients together.  Blend together eggs and vegetable oil.  Add dry ingredients, mixing thoroughly.  Stir in carrots.  Pour into prepared pans and bake 30-40 minutes.  Test with a toothpick after 30 minutes.
Ingredients for icing:  Note:  I double this recipe (except for the pecans).  Using a generous amount of icing for the cake will leave a small amount that can be used for cupcakes (for the non-carrot cake eaters)
1 (8-oz.) package cream cheese, softened
1/2 cup butter or margarine
1 tsp. vanilla extract
1 (16-0z.) package confectioners' sugar
1 cup pecans, chopped and lightly toasted
Directions for icing:
Cream together softened cream cheese and butter.  Add vanilla and sugar.  Frost cake and sprinkle with chopped nuts.  The nuts can be added to the sides if the top of the cake will be decorated.
Other notes:  Don't let the cream cheese and butter become too soft, as the icing will be too runny and the layers will not stack well.
Enjoy!