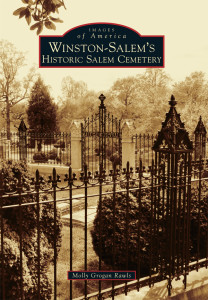 Salem Cemetery was chartered in 1857 and is located in Winston-Salem, adjacent to God's Acre in Old Salem.  Winston-Salem's Historic Salem Cemetery is an illustrated profile of the cemetery itself, and of the people who are buried there.  From a North Carolina governor to Winston-Salem mayors to business and civic leaders to beloved teachers, Salem Cemetery is the final resting place for many well-known residents.  Read about the city's forefathers and their contributions to Winston-Salem's economy and character.
Question:  What do Calvin Wiley, Richard J. Reynolds, James A. Gray, Kathleen Hall, and Rowland Hill Latham have in common?
Question: Who was the first local girl to fly in an airplane?
Question: Who were the sisters who were married to men for whom a tobacco company was named?
Question: Who was the founder of the Dallas Morning News, but whose name is still attached to a large local residence?
Answers to the above questions, plus more local historical facts, are found within the pages of Winston-Salem's Historic Salem Cemetery.
Winston-Salem's Historic Salem Cemetery, by Molly Grogan Rawls, is published today and will be available in several local businesses this week.  Check the website, www.mollygroganrawls.com, for a list of businesses that will have autographed copies.  The website will also list various book-related events, such as presentations, which are open to the public.
Stay tuned for the next historical post on April 1st.