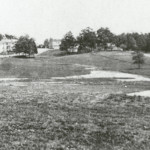 On this date: January 12, 1923.  As early as September 1922, plans were underway for the new subdivision called Westover Park.  An announcement in the newspaper made the public aware of the new development that was located just beyond Ardmore, containing 300 acres, to the west of the city.  The development was to have beautiful boulevards, with a golf course on one side and residences on the other.
Vernon Ferrell, of the Atlantic Coast Realty Company, handled the Westover property.  On this date, the Standard Home Company started construction on the first home in the development.  Light, water and sewer lines were in the future plans, as were sidewalks, curbs and gutters.
Westover Park was advertised in 1924 as "Winston-Salem's subdivision beautiful and community deluxe – a neighborhood for homes –  the place to live."  Westover Golf Course opened in 1925, and was bounded by Magnolia Street, Hawthorne Road, Knollwood Street, Greenway Drive, Fairway Drive,  Westover Drive, Bellevue Street and Melrose Street.  Other streets in the neighborhood were Lyndhurst Avenue, Maplewood Avenue, and Parkway Avenue.
Photo courtesy of Forsyth County Public Library Photograph Collection.