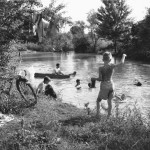 August and heat are synonymous in the South.  Sometimes, you just have to cool off, so the old water hole is a great place to meet your buddies and take a dip.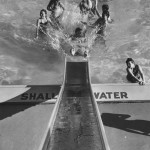 Not everyone has access to a water hole or pond or creek or lake, so swimming pools are awfully nice too, and even come with slides to help you get into the water faster.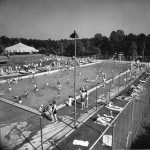 It looks like lots of people had the same idea on this day at Reynolds Park pool.  You can see the merry-go-round at the left in the photo,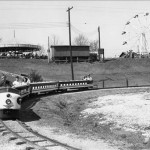 and there was also a Ferris Wheel and a miniature train at the park,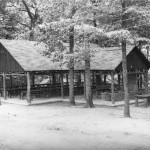 with picnic shelters for cookouts or picnics.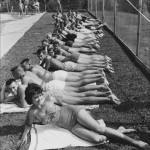 But, for teenagers, the pool was the big draw, where you could meet with friends and swim and sunbathe, and be admired.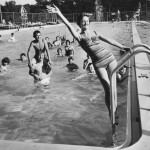 And, if no one was paying attention, you could just bring a camera to the pool, and have pretty girls wave at you.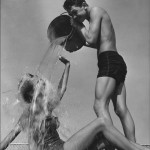 Here's another way of getting a girl's attention…dangerous, but maybe it worked for him.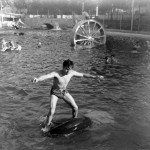 In another part of the county, Crystal Lake offered many summertime amusements as well.  The large, multi-depth swimming pool had a wheel in the center that you could climb and jump off.  There were diving boards of all heights, and fountains that you could stand under and feel the water falling all around you.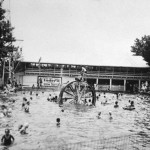 There was a pavilion at one end of the pool where you could listen to a jukebox and dance, or buy a snack, or watch the swimmers.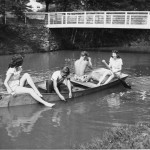 A boating lake was at the other end of the pool, with canoes to rent and paddle around the island.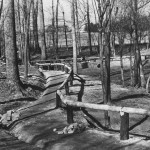 The Recreation Department worked extra hard planning summer activities, and many of them took place at the local parks.  Miller Park had paths that led to picnic shelters.
There was a wading pool and horseshoe pitching, to name just a few of the activities.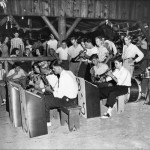 Local musicians got together to perform at the shelters on summer evenings.
The pools at Forsyth Country Club and Pine Brook Country Club stayed full and busy all summer, with swimming and sunning.
The Red Shield Boys Club pool opened in 1956 and 10 years later, Bolton pool opened off Bolton Street.
Tanglewood Park had a large pool, with a sheltered place for resting and getting snacks,plus a boating lake with paddle boats,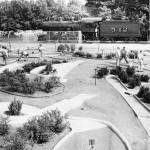 and a miniature golf course next to the pool, near the train.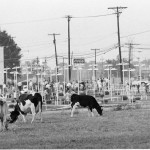 Speaking of miniature golf, the Putt Putt course on Stratford Road saw a lot of business, and didn't appear to disturb the cows nearby.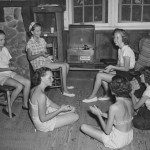 Stay tuned for Summertime Memories – Part 3: Camps, Sports, Work, and More, coming August 20.
Photos courtesy of Forsyth County Public Library Photograph Collection.