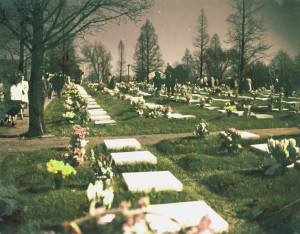 Winston-Salem is known as the Easter City and receives many visitors from all over the United States during the Easter and spring season.  Many visitors come to Winston-Salem to attend the Moravian Easter Sunrise Services that are held at Home Moravian Church and at other Moravian churches throughout the county.  See images of the sunrise services over the years on the website, www.digitalforsyth.org.
Winston-Salem residents have special Easter memories in addition to the Easter Sunrise Services.  Do you remember…dyeing Easter eggs, Easter egg hunts, buying new shoes and outfits for Easter Sunday, packaging Easter candies for special people, and buying Easter flowers?
Here are a few photographs to jog your memories:
Easter egg hunts at Forsyth Country Club (first photo) and Pine Brook Country Club (1958).  Hunting for eggs at Pine Brook (second photo) are Debbie Gibson, Carolyn Moran, and Burt Smith. In the third photo, Sandy Snow and Mike Jeziorski are enjoying their Easter treats, while Easter Bunny Gretchen Ehrhardt looks on.
The boys in the first photograph are working hard to color and decorate their eggs.  In the second photo, Girl Scouts are packaging candy Easter eggs to distribute to children about 1965.
Easter shopping for new shoes and spring clothing is part of the experience, and downtown streets offer decorated windows and lots of finery to admire in 1951.
It looks like even the Easter Bunny is checking out the store windows at Anchor Company in 1950.  In the second photo, James Michael Ashcroft and Robin Reynolds find a specially decorated window, with fancy-dressed ducks and geese.
In 1951, Benjamin F. Martin Jr. is dressed in his Easter outfit, trying to keep his Easter eggs contained.  Also in 1951, Susan Collins, Michael Vogler and Vickie Phillips are all dressed up for an afternoon stroll.
Crist Scott Blackwell found a restful place to enjoy his Easter basket, while Elaine Poteat made a colorful Easter feature for newspaper readers in 1962 for the Winston-Salem Journal.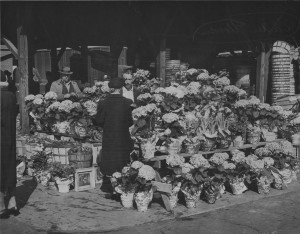 Easter preparations are not finished until beautiful flowers are purchased at the City Market for homes and cemeteries.  This photo shows the flower selection in 1950.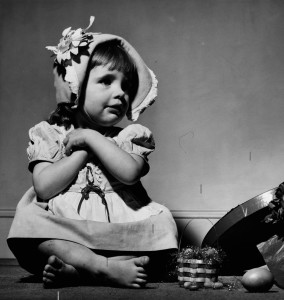 Three-year-old Susan Nance, dressed in her Easter dress, minus shoes, rests after a busy day in 1949.
Happy Easter!
Photographs courtesy of Forsyth County Public Library Photograph Collection.
Stay tuned for the next post: Special edition on March 21st!